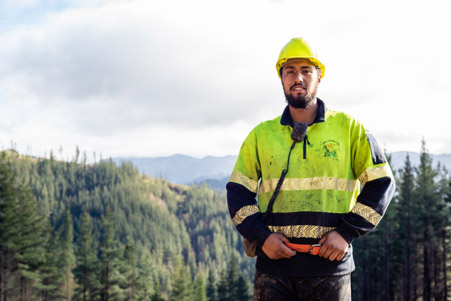 EWC programme opens forestry pathway for Tahi
10 September 2019
The shake-up of vocational training in New Zealand has been welcomed by the forestry industry here, just as its own apprenticeship programme takes off.
Eastland Wood Council's Generation Programme last week celebrated the first of their graduates to go on to sign up for a Competenz forest industry training apprenticeship, with 21-year-old Tahi Hiroki the first to move on to a three-and-a-half-year apprenticeship with Dewes Contractors.
"Apprenticeships and on-the-job training programmes are essential for an industry like forestry where workers can learn while they earn, there is a focus on practical skills and contextualised learning, and they can be assessed while actually doing the job," Eastland Wood Council chief executive Kim Holland said.
Ms Holland said the news came at a time when the Government has given vocational education a big shake up, moving the nation's training institutions, where much of the apprenticeship training is done, under one body.
"From an industry and a regional perspective it will allow training providers to provide programmes and training that meets the needs of industries in the region," she said.
The photo here features Gisborne man Tahi Hiroki ready to get down to work in forestry, after graduating from EWC's Generation Programme. Picture by Brennan Thomas.
This article first appeared in the Gisborne Herald on 27 August 2019.