NEW ZEALAND

LOVES FORESTS
Our forests – and the industry around them – give enormous value to New Zealand and New Zealanders. There are quite a few misconceptions about forestry and its impact on our environment and our communities – read the real story here.
FORESTRY SUPPORTS COMMUNITIES
Forestry production is hugely important for many regional economies - in many rural areas forestry is more important than farming.
For example, forestry injects $262 million into the Gisborne regional economy and $377 million into the Northland economy.
Also, its contribution to GDP is significantly more than sheep and beef farming in several areas around New Zealand, including Northland, Tasman/Nelson and Otago, and Bay of Plenty.
An increase in forestry returns means more jobs for people working in forestry, as well as upstream and downstream industries. Read more about forestry's contribution in an NZIER report.
Forests are also a significant contributor to recreation and tourism, providing places for people to visit for walking, cycling, and generally enjoying the outdoors.
FORESTS PROMOTE BIODIVERSITY AND PROTECTS THE ENVIRONMENT
Plantation forests include a range of plant, fish, animal and bird life and ecosystems. Some endangered species, such as the native falcon, actually prefer to live in plantation forests because freshly harvested areas attract mice and other food sources.
Forests also stabilise soils and reduce erosion and sedimentation, moderate water flows and microclimates, and stop nutrients from being discharged into the water, as well as carbon into the atmosphere.
Trees also are a critical part of the nutrient and water recycling (hydrological cycle).
CLIMATE CHANGE
Because trees as trees lock-up millions of tonnes of atmospheric carbon, climate change experts say the massive expansion of plantation forestry is the most important tool for New Zealand to achieve a carbon neutral economy by 2050.
The 2019 Forest Industry Roadmap points to carbon lock-up as the driver for forest expansion for the next 30 years.
UP TO 2.8 MILLION HECTARES OF ADDITIONAL FORESTS
To offset our greenhouse gases from industry, transport and farming, and make New Zealand carbon neutral, the Productivity Commission suggests up to another 2.8 million hectares of forests must be growing in New Zealand by 2050.
This is an area more than one and a half times our current forest space.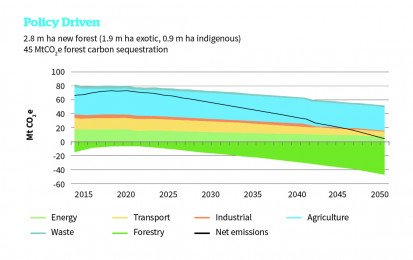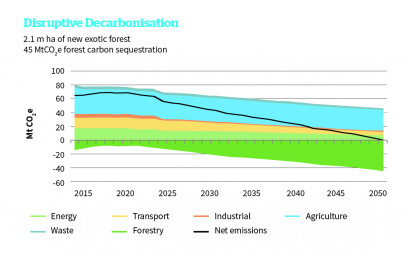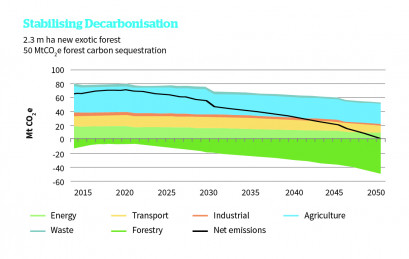 FORESTRY WORKS WITH AGRICULTURE
Nearly a third of our forest production is now from small-scale forests on farmland, as many farmers see woodlots as a complementary part of farming.
A forest lot is also considered a profitable long-term investment, giving them a different income stream.
Forests also help farmers protect land that's marginal for sheep and beef production, especially with increasing restrictions on nutrient and sediment discharge into watercourses.
ADDING VALUE
About half the value of our forest exports comes from our logs being processed into something more valuable before they leave New Zealand. This creates downstream industries that rely on a healthy forestry sector.
The volume of logs we export is testament to our amazing ability to grow and harvest our trees at least as well as anyone else.
GROWTH IN TIMBER CONSTRUCTION
More and more construction is moving away from steel towards timber, an eco-friendly, locally grown material that continues to store carbon even after it's been cut and processed.
Modern engineering means even very tall buildings can be built from timber - which has the bonus of flexing in earthquakes.
FORESTRY PROTECTS LAND
Trees, whether plantation forests or native bush, are much better at holding vulnerable land together than grass.
The forestry industry is investing a lot of time and money into researching the best species, machinery, and planting and harvest management to reduce the risk of debris washing off hillsides if there's a flood soon after harvest.
It is also more common to decide never to fell some trees to protect the land.
ECO-FRIENDLY FUMIGANTS FOR PEST-FREE EXPORTS
Some of our overseas customers want us to make sure our log exports are free of insect pests, and require us to use a fumigant gas called methyl bromide to treat these logs before they go on the ship.
Unfortunately, methyl bromide harms the Earth's atmospheric ozone layer so we are spending millions of dollars to find other treatments, with either no fumigant at all, or one which can be recaptured from the log without entering the atmosphere
GENETICALLY MODIFIED TREES
There are no genetically modified trees in New Zealand's forest at the moment, but we are looking at some modification.
For example, it would be good if we could turn off a tree's fertility to stop trees spreading and wilding pines growing where we don't want them.
Gene editing could also give us faster growing and denser trees, boosting their ability to lock up carbon and combat climate change.
NATIVE TREES
At the moment we do not grow many native species, such as totara and kauri, as part of our managed forests.
They are much slower to grow to a harvestable size than, for example, radiata pine. Their carbon lock-up rate is also much slower.
However, because of their wood qualities and high market demand, with better management it's likely we will have more native species in our planted forest estate in future.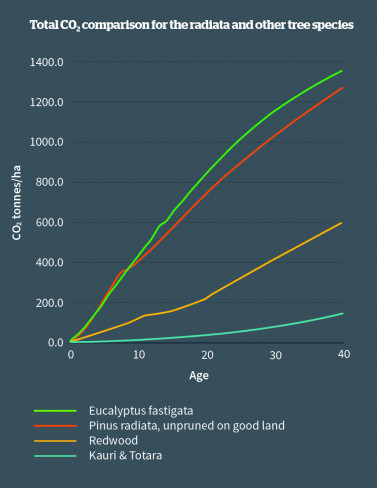 NO IRRIGATION NEEDED
Our trees take very little outside help to flourish - we very rarely need to irrigate or fertilise. And, of course, there are no animal welfare issues in farming trees.
SIGNIFICANT EXPORT EARNER
Forest products are now a major part of New Zealand's export mix, bringing $6.9 billion dollars into our economy in 2019, slightly behind beef and sheepmeat returns and earning more than three times the export returns per hectare than the whole sheep and beef sector. In most years more than half these exports were from timber products processed in New Zealand, with the United States our main sawn timber destination and Australia our most important paper market.
OWNERSHIP OF NEW ZEALAND FORESTS
A number of our forests are overseas owned, but some 40 percent of the land under the forests is owned by various iwi. New Zealand farmer-foresters are likewise producing about 40 percent of the current harvest. While some news media have reported scare stories over the past year about foreign takeovers of New Zealand farmland, the total farm area bought in 2019 was less than 10,000 hectares representing 0.1 percent of New Zealand's sheep and beef farmland, most of it marginal for continuing sheep and beef production. Overseas investment in the dairy sector has been much greater.