OPTIONS FOR

SCHOOL LEAVERS/NEW ENTRANTS
THINKING ABOUT FORESTRY AS A CAREER?
The forest industry has many career opportunities and pathways.
If you are still at school or simply interested in forestry as a career, it's a great idea to learn as much as you can about the different types of work that exist.
Have a look at our Careers pages, and talk to anyone you know already working in the industry.
WHILE YOU'RE STILL AT SCHOOL
The best subjects to study for most forestry careers are sciences and maths. A few schools offer Forestry at NCEA, and students can take Level 2 and 3 NZQA forestry courses, which double as NCEA credits.
Some school careers advisers have good links with people in the forest industry who are prepared to offer an early taste of what work in the industry is like. Make sure your school careers adviser knows if forestry is an area you are interested in.
Some schools link up with forestry employers to provide work experience for Year 11-13 students through the Gateway programme.
The other good contact for some initial experience can be your local regional wood council.
And keep an eye out for the Inzone bus...
If you're interested in truck driving, check out ShiftUp, the road transport programme for secondary school students.
WHERE TO START IN FORESTRY TRAINING AND EDUCATION
Some people will go straight into a job, but for others, some training or further education will be essential.The best initial training or academic course for you will depend on the type of career you think you might be suited to.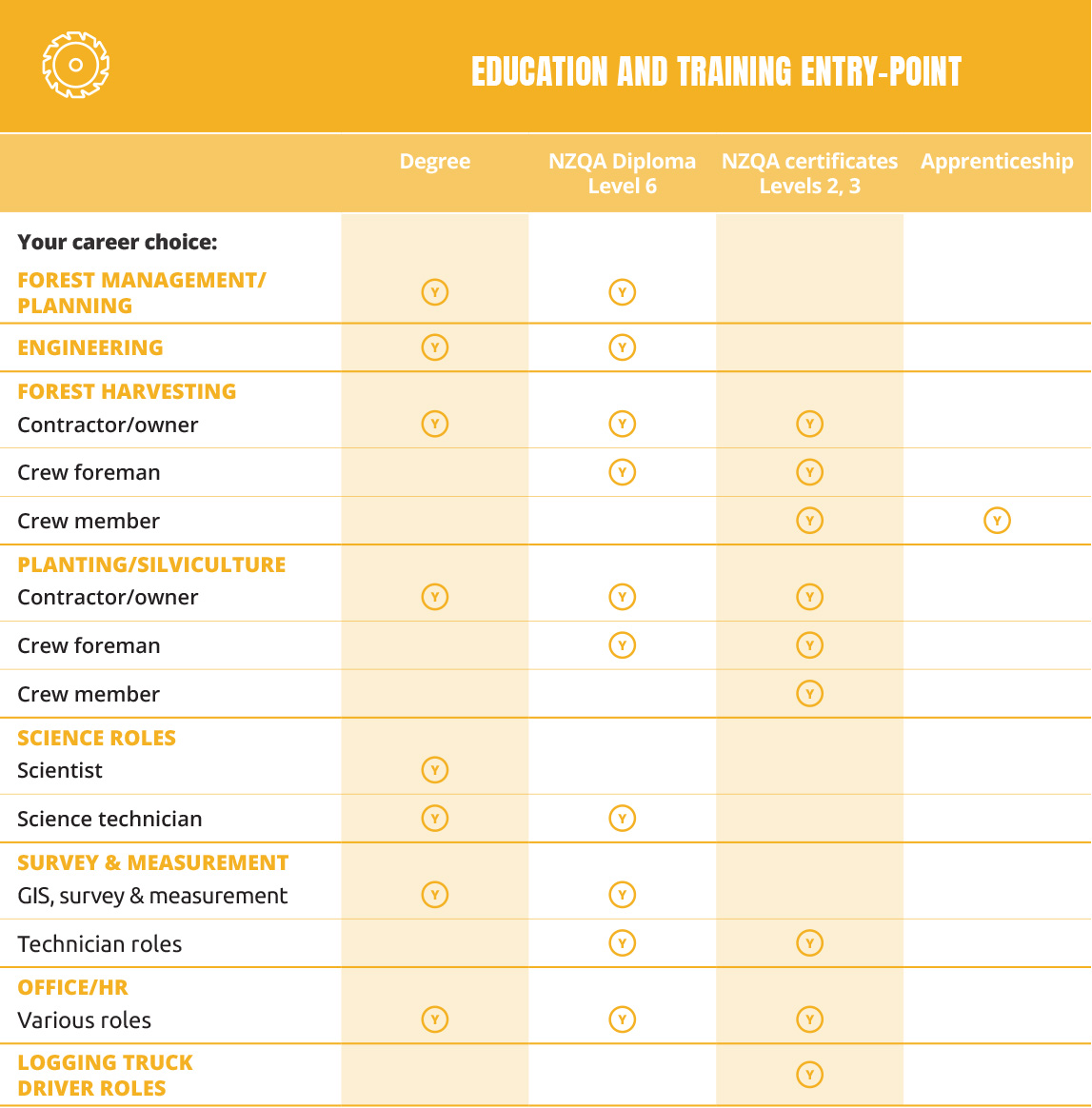 TRAINING FOR A MANAGEMENT OR TECHNICAL CAREER
Degree courses: Forestry Science and Forest Engineering
The University of Canterbury School of Forestry offers degree courses in Forestry Science and in Forest Engineering.
Visit the UC School of Forestry website for full details.
Diploma course: Diploma in Forest Management (Level 6)
Toi Ohomai (formerly the Waiariki Institute of Technology, Rotorua) offers a NZQA Level 6 Diploma in Forest Management.
Visit the Toi Ohomai website for full details.
TRAINING FOR A PRACTICAL CAREER
Train before you work
Most practical forestry training is based around NZQA certificates. This training teaches practical skills and how to work safely in the forest. People new to the industry generally work their way up the NZQA qualifications pathway, starting at Levels 2 and 3.
Level 2 certificates focus on foundation forestry skills. This means training in practical skills to make you ready for work. Other Level 2 training includes important areas such as health and safety, and hydration and nutrition.
Level 3 and 4 certificates develop skills in harvesting and general forestry operations. These courses increase competence while emphasising safe work practices.
Pre-work training programmes are available in many regions, to help people become work-ready and hence more employable. Take a look to see if any of the programmes below would suit you:
Central North Island/Bay of Plenty
On-the-job training
Some people get the opportunity to work and train at the same time, if their employer is supportive. The employer usually works with a local trainer to design a training programme for each employee. New entrants to the industry start at NZQA Levels 2 and 3, and work their way up as they become more experienced.
Forestry company assistance
Some of New Zealand's big forestry companies have schemes to help their contractors employ and train new staff – for example, Rayonier Matariki.
Others offer work experience to students – for example Timberlands.
Contact local forestry companies directly and ask if they have training opportunities that might suit you.
Apprenticeships
Two forestry apprenticeship programmes are available:
Manual harvesting operations
Mechanised processing.
Apprenticeships are available throughout New Zealand. They generally take around three years to complete, and combine NZQA Level 3 and 4 training programmes with working in the forest.
Competenz is the forestry industry training organisation, responsible for apprenticeships and NZQA programmes.
Have a look at the Competenz website for more information about training and careers in Harvesting and Silviculture.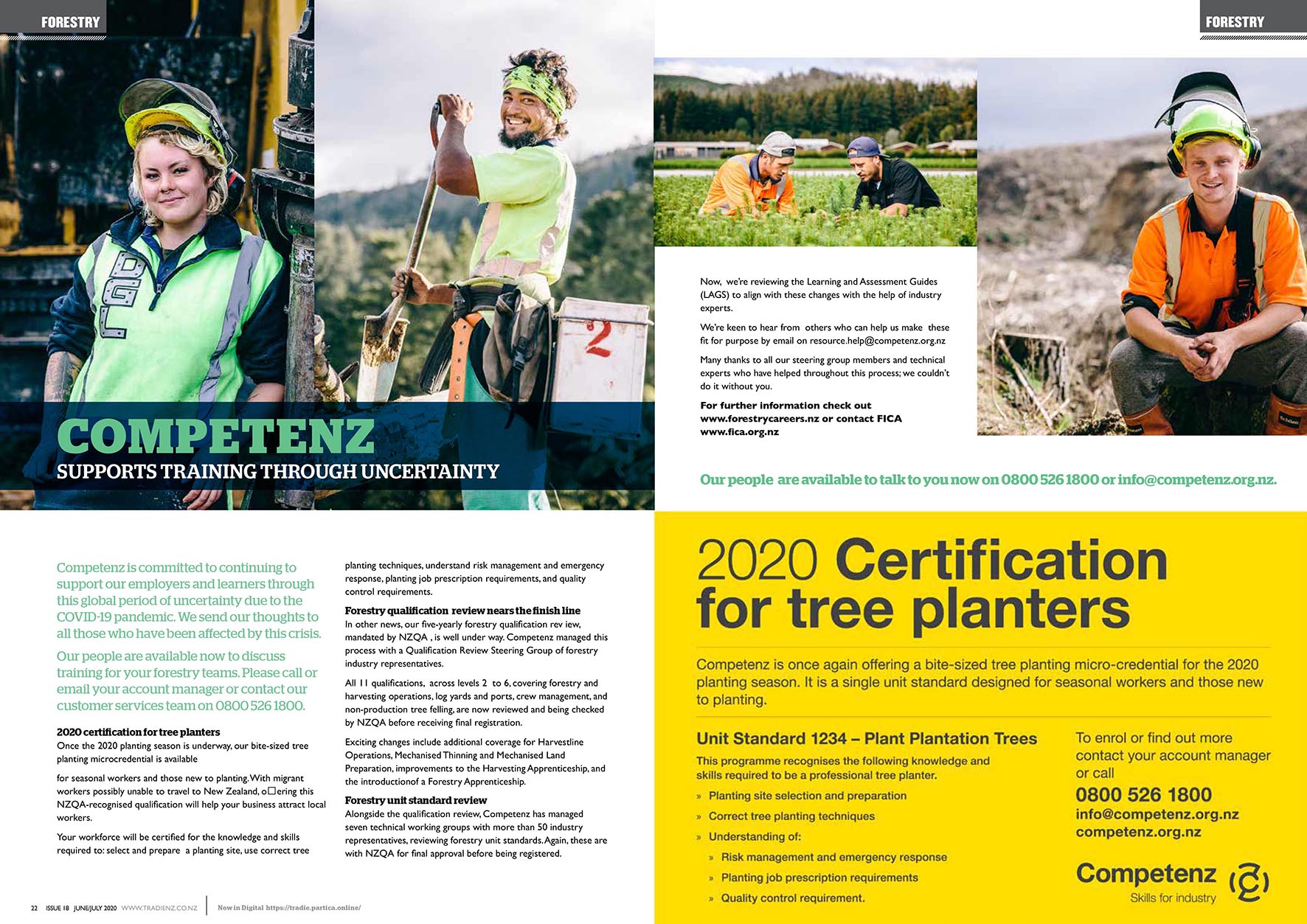 You can view a PDF of this flyer here.
GOVERNMENT'S TARGETED TRAINING AND APPRENTICESHIP FUND
From 1 July 2020, apprenticeships and training for certain targeted sectors – included forestry – will be free.
For more information on how Competenz can help you access Targeted Training and Apprenticeship Funds call 0800-526-1800.
Visit the Tertiary Education Commission website for further details.